Cosmetic Dentist in Beverly Hills, CA
One of the most trusted cosmetic dentists in Beverly Hills, Dr. Maddahi has established a top destination for cosmetic reconstructive work, with a team of top experts offering everything patients need. We are the experts in implant, anti-aging, and cosmetic dentistry.


Dr. Maddahi In the Media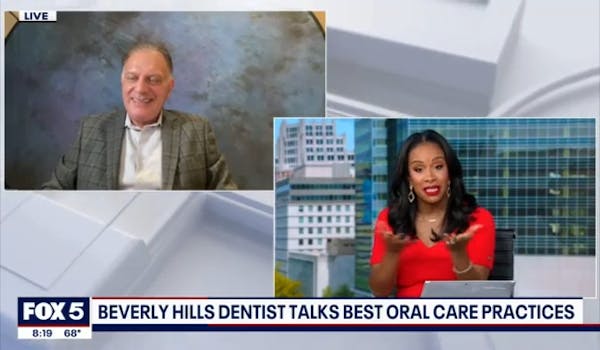 Tips for Protecting Your Pearly Whites | The Toxic Overload Interview
Fox 5 interviewed Dr. Kourosh Maddahi to hear about his tips for protecting your teeth.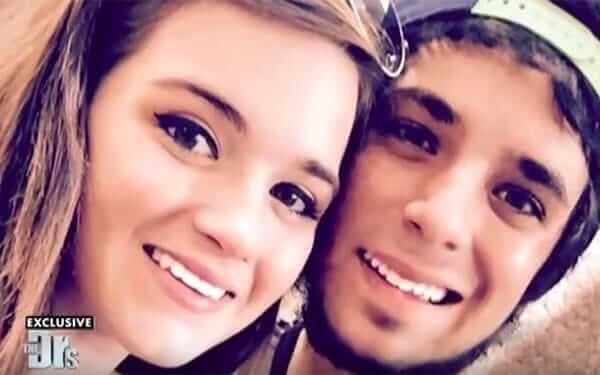 Dr. Maddahi & Dr. Mizrahi Team Up for Significant Oral Reconstruction
Find out what Dr. Maddahi and Dr. Mizrahi did to reconstruct the smile of a young girl whose mouth was severely injured by an act of violence.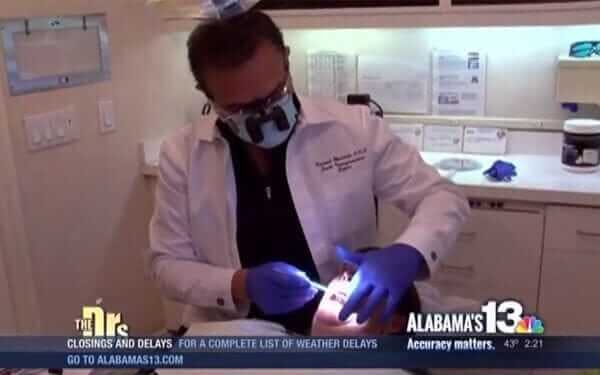 Dr. Maddahi Featured on The Doctors for his Smile Makeover
The Doctors featured Dr. Maddhi's beautiful Smile Makeover, helping in one of the more heart-wrenching cases ever showcased.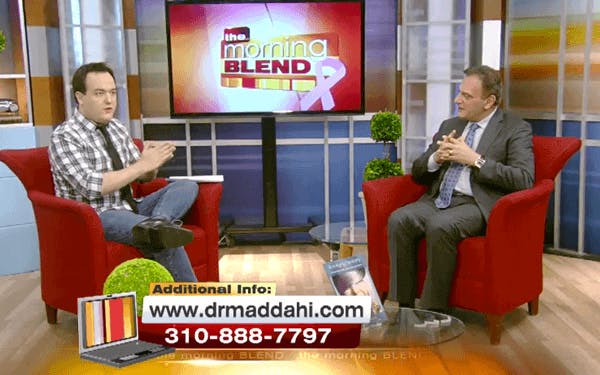 The Smile Transformation Expert on The Morning Blend
The Morning Blend sat down with Dr. Maddahu to talk about personalized smile transformations and the balance and harmony cosmetic dentistry can achieve.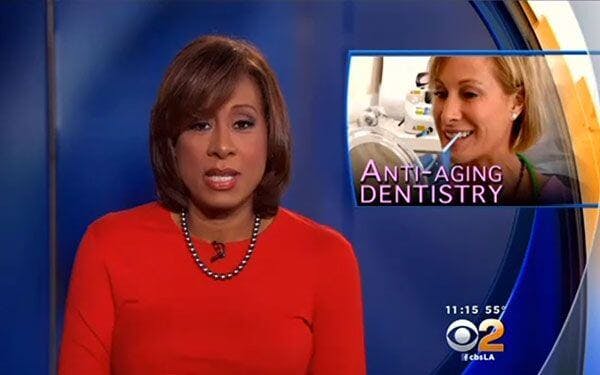 Dr. Maddahi Featured on CBS 2 News for His Incredible Anti-Aging Dentistry
Dr. Maddahi is recognized within the Hollywood and Beverly Hills communities and throughout the world as a leading expert in anti-aging dentistry, as featured on CBS 2 LA news.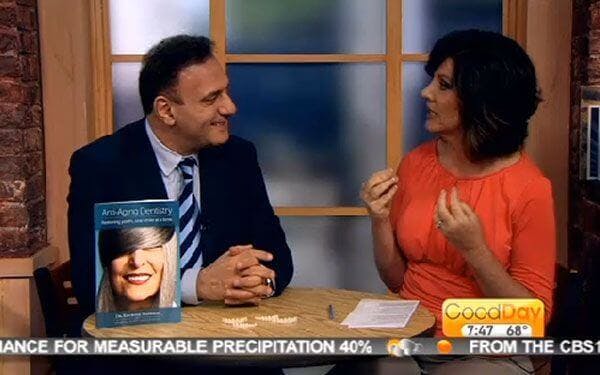 Dr. Maddahi Featured on Good Day Sacramento for His Anti-Aging Dentistry
Beverly Hills cosmetic dentist Dr. Maddahi made a visit to Good Day Sacramento studios to chat with viewers about how to take years off of their appearance with a beautiful, brilliant smile.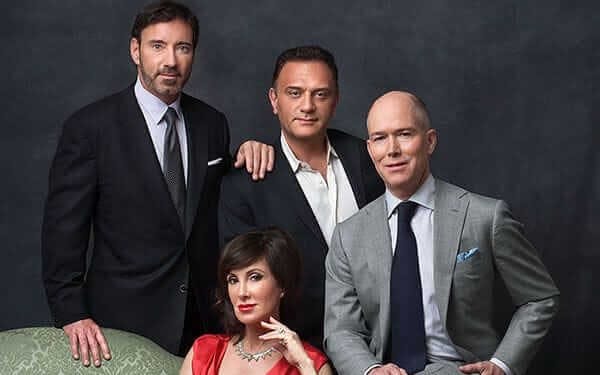 Dr. Maddahi Featured as a Master of Cosmetic Dentistry in Masters of Aesthetics Magazine
The Masters of Aesthetics magazine highlights the work of the world's most accomplished doctors in their fields. Dr. Maddahi was honored to be named a Master of Cosmetic Dentistry.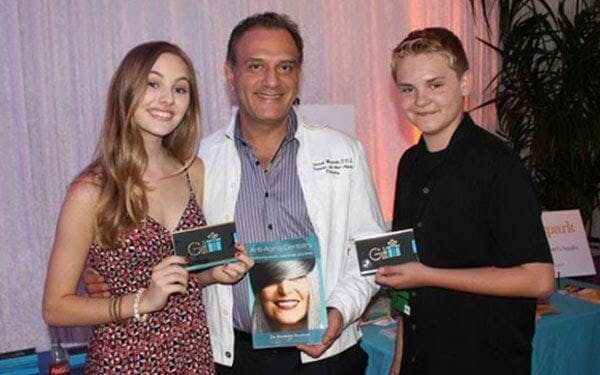 Dr. Maddahi's New Book Anti-Aging Dentistry: Restoring youth one smile at a time.
CBS 2 News featured Dr. Maddahi as a leading expert in anti-aging dentistry, not only in Hollywood and Beverly Hills, but throughout the world.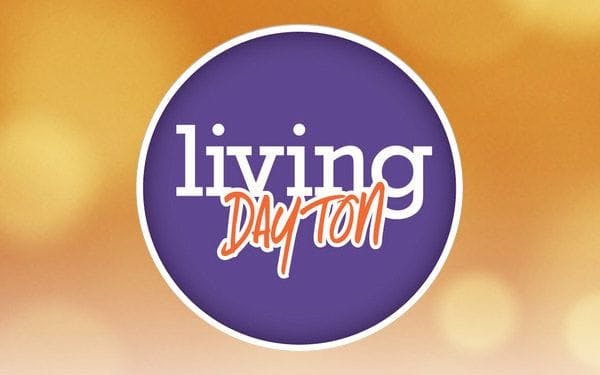 Dr. Maddahi talks about Anti-Aging Dentistry on the Living Dayton Show
Dr. Maddahi gives his tips for a whiter smile and discusses the habits that might be aging your smile in his appearance on the Living Dayton Show.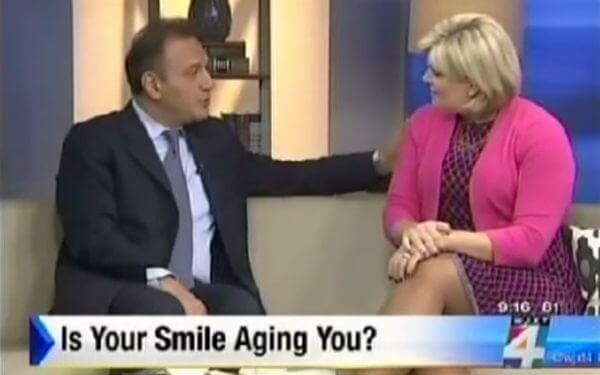 Beverly Hills Cosmetic Dentist Kourosh Maddahi on WJXT 4 News
Dr. Maddahi appeared on WJXT 4 News to talk about how transforming the teeth can change the appearance of the lower portion of the face–taking years off the appearance.
Dr. Kourosh Maddahi
Dr. Maddahi, a board-certified cosmetic dentist in Beverly Hills, graduated with honors from UCLA and completed his dental degree at the University of Southern California School of Dentistry. Since opening his practice in 1987, more than 10,000 patients have come through their doors to take advantage of Dr. Maddahi's award-winning cosmetic dentistry.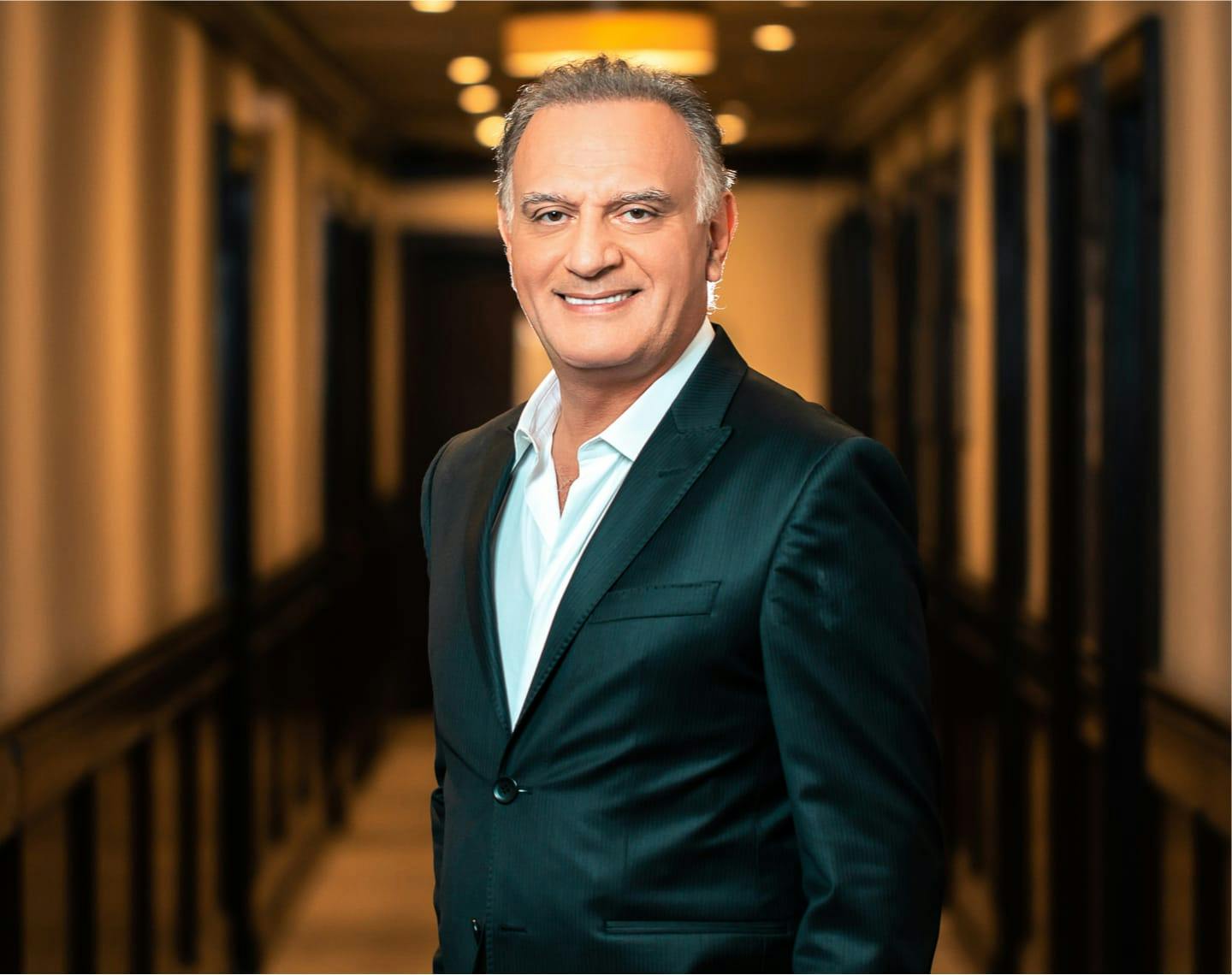 A Recognized Leader in the Field of Cosmetic Dentistry:

Dr. Kourosh Maddahi

Dr. Maddahi, D.D.S. has been voted one of America's Top Dentists in the field of Cosmetic and Implant Dentistry by the Consumer Research Council of America. He has also received the Best of Beverly Hills Award from the United States Commerce Association.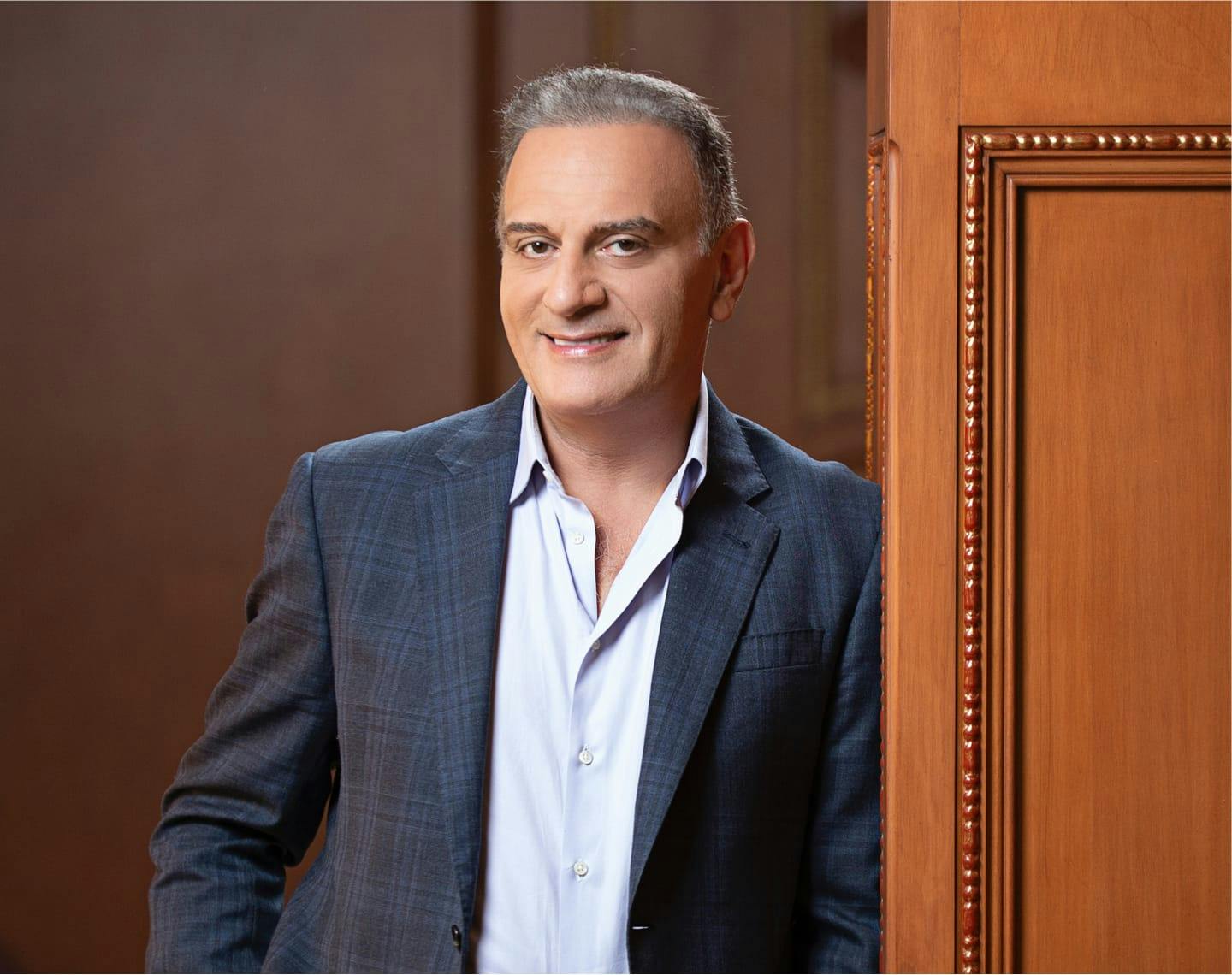 World-Renowned,


Celebrity Trusted

Dr. Kourosh Maddahi
Dr. Maddahi's patients include celebrities, models, entrepreneurs, and businessmen and women from all over the world with two things in common: firstly, they know that their image is critical to their self-confidence, success. Secondly, and perhaps most importantly, they are looking for the best Beverly Hills cosmetic dentistry and anti-aging dentistry.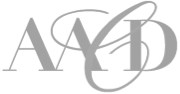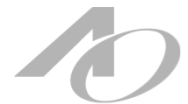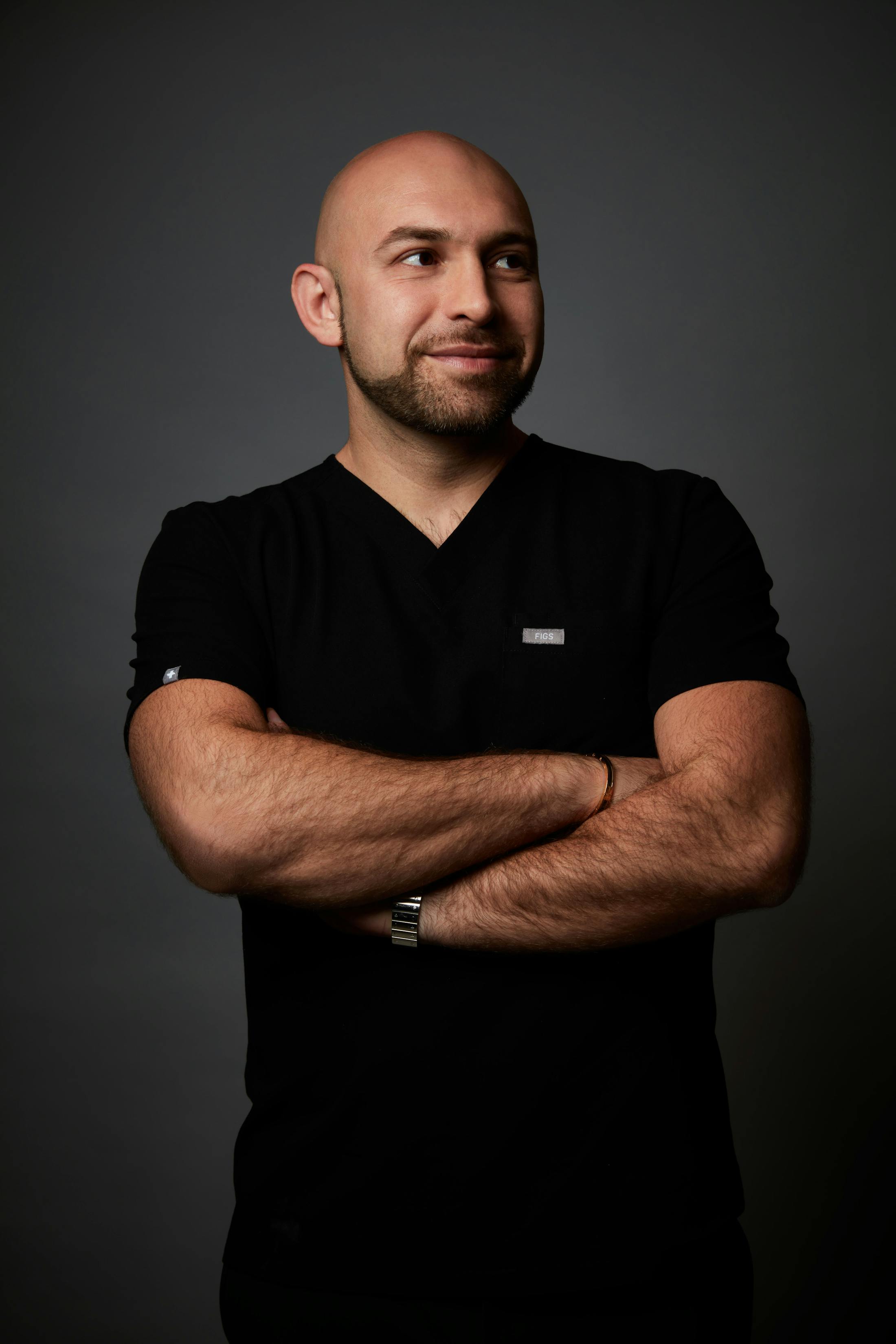 Founder of Dion Health:

Amin Samadian, D.D.S.

Dion Health is the first in the industry to integrate dental, medical, and cosmetic care into one place. The holistic approach has never been implemented in the country before, and Dr. Amin Samadian feels it is time for patients in the United States to experience a system that caters to more than just their dental needs. Dion Health is also one of the pioneers to implement state-of-the-art technology built for craniofacial care, and with eight dental offices across California, with more underway, the company has changed countless lives. Dr. Amin Samadian treats his patients' conditions to the root of the problem to prevent the problem from ever happening again in the future instead of merely approaching the condition at the surface level.
The 90210's Premier Cosmetic Dentist to the Stars
His work has been featured on TV shows and broadcasts including: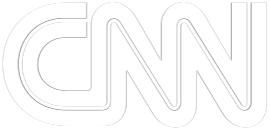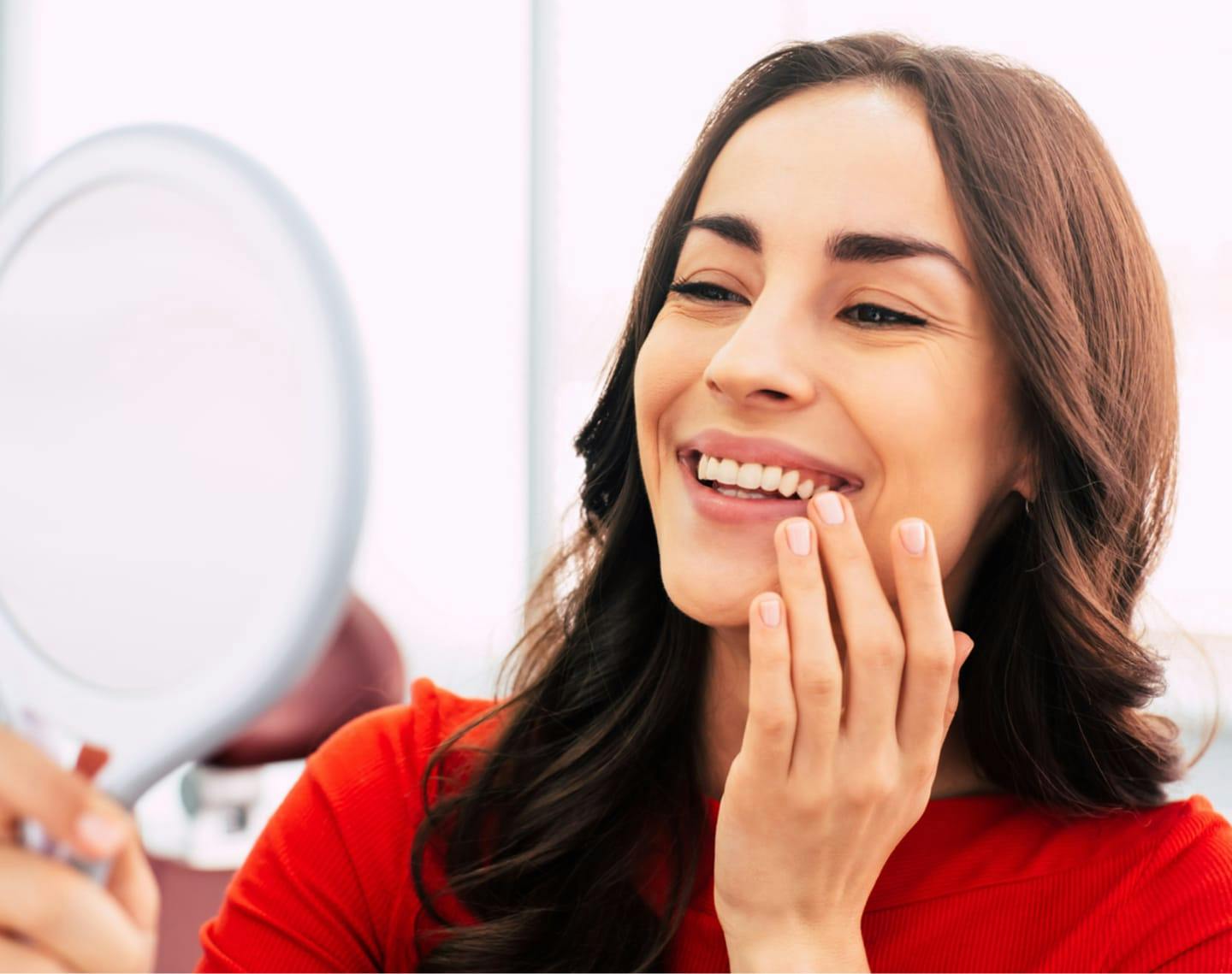 Implant and

Reconstructive Dentistry

A Holistic Approach.
Our practice implements and teaches a holistic approach to oral health. For over two decades, Dr. Maddahi has studied oral bacteria and its role in whole-body health, and his patients benefit greatly from this research. This also lead to his creation of the only certified non-toxic line of oral care products that are microbiome safe. In addition, we educate patients about lifestyle habits that significantly improve overall oral health — and ultimately, their wellbeing.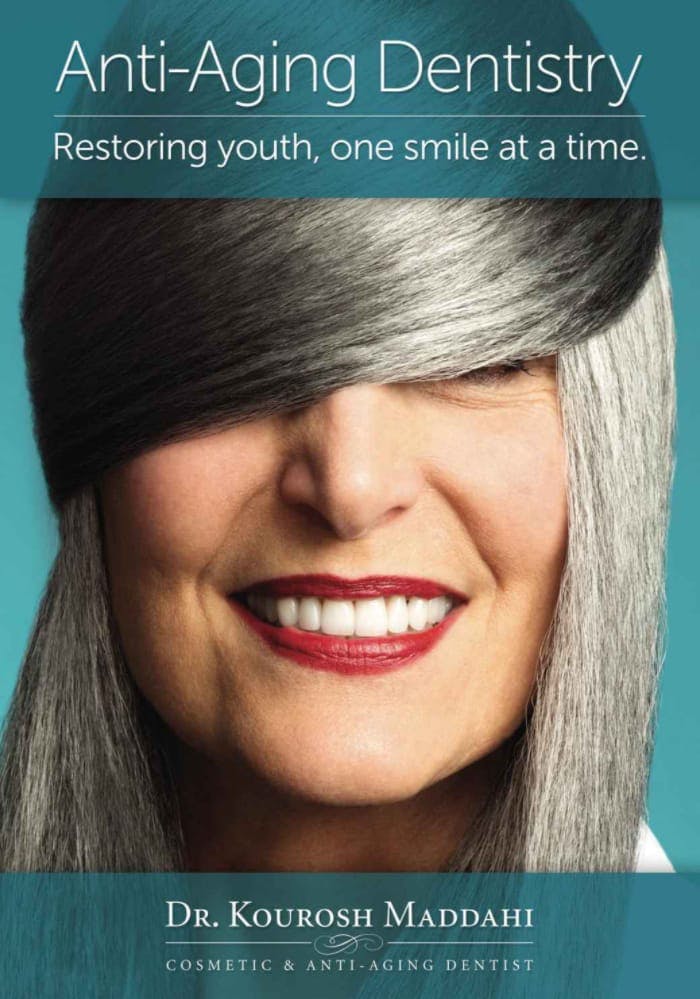 Anti-Aging Dentistry
Dr. Maddahi's first book hits #1 on Amazon's best-seller list and gains international press!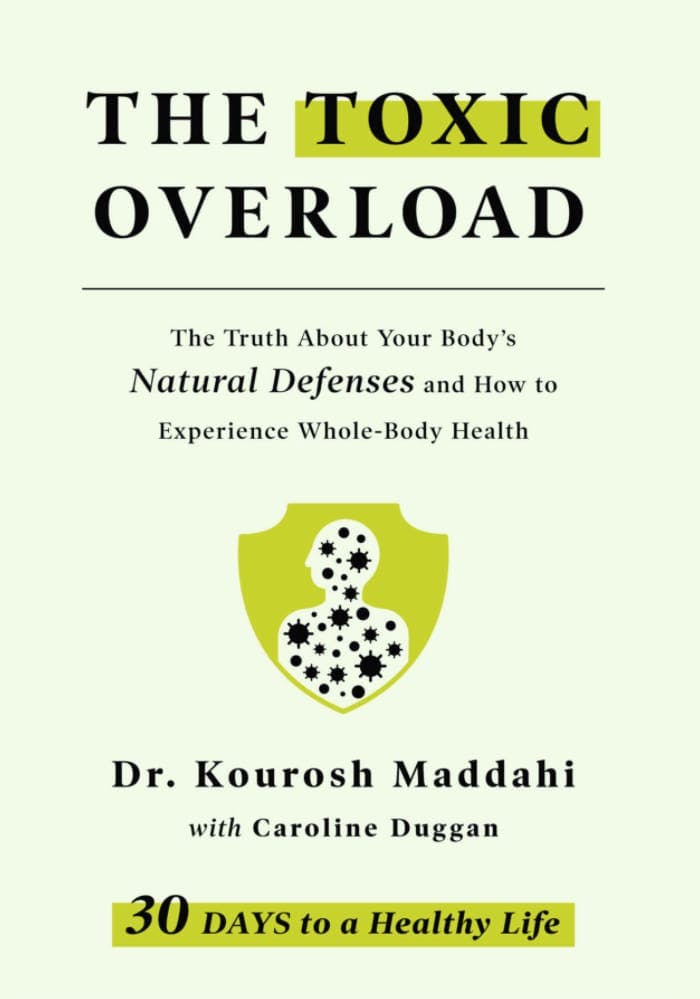 The Toxic Overload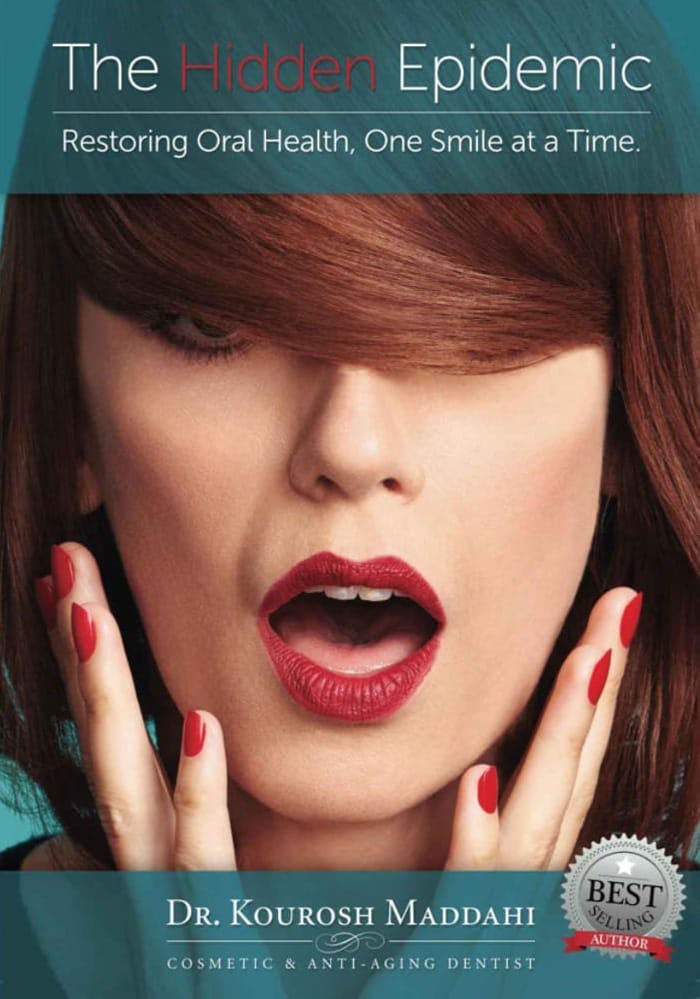 The Hidden Epidemic
Dr. Maddahi gives a thorough and easily understood education on today's hidden epidemics of the mouth.
View all on Amazon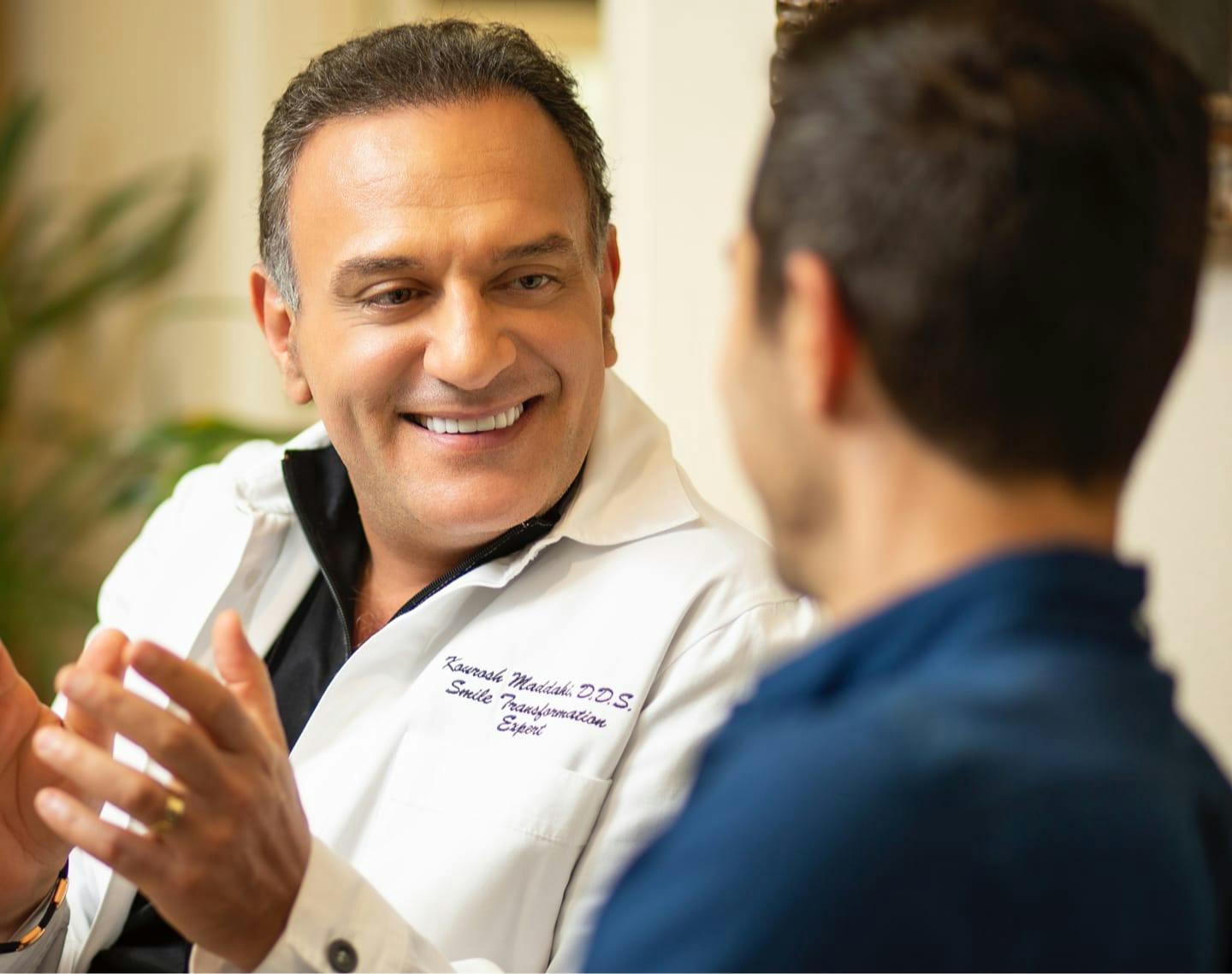 An Expert in His Craft

Rapid Smile Transformation

Dr. Maddahi is a known Beverly Hills cosmetic dentist who is also available to patients around the world who want to quickly and beautifully transform their smiles. With Dr. Maddahi, many patients can arrive for a consultation on Monday, and by Friday enjoy a complete smile transformation.

Dr. Maddahi, a top cosmetic dentist in Beverly Hills, offers the most state-of-the-art, advanced technology available for patients, ensuring treatments are safe, extremely effective, and as painless and relaxing as possible. By staying abreast of the most recent innovative breakthroughs in the field of cosmetic dentistry, Dr. Maddahi is able to perform smile transformations in a week or less that would once took months.
Patient Testimonials
They go above and beyond to keep your teeth looking great.
Absolutely, with no doubt Dr. Maddahi is number one in dentistry. This doctor and his team gave me the best treatment and service time and again.
The best of the best in cosmetic dentistry! I always have such an amazing experience every time i come to see Dr. Maddahi!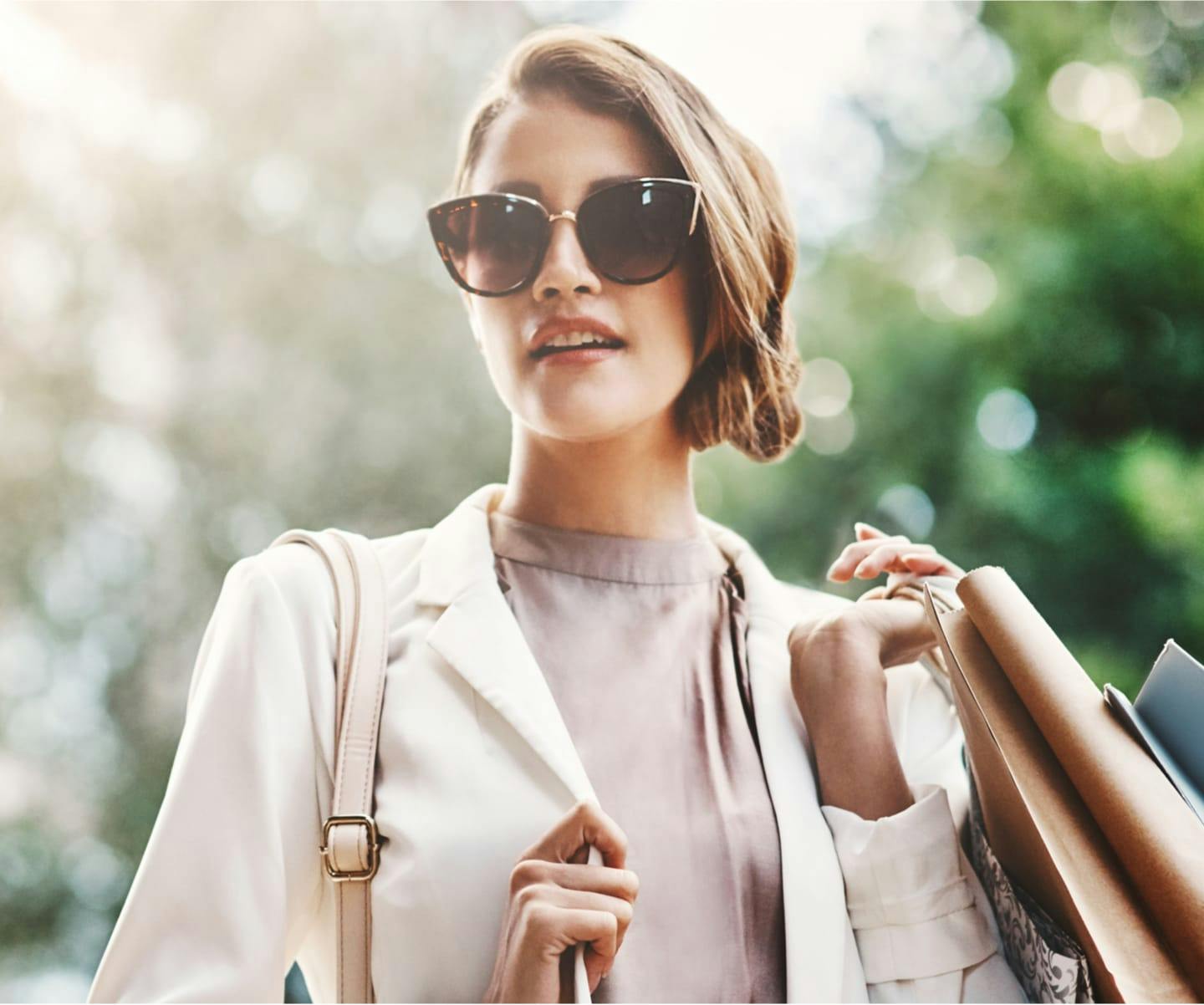 Traveling Patients
Dr. Kourosh Maddahi has been pushing the envelope and leading the way as one of the best Beverly Hills cosmetic dentists for over 30 years, earning himself awards and publicity from his peers and celebrities alike.
His many patients who travel to Beverly Hills for his treatments can enjoy their visit, experiencing the best of everything from high-end clothing to state-of-the-art med spas. When patients from out of town head home, their luxury experience in Beverly Hills leaves them looking and feeling as gorgeous and pampered as the celebrities of Hollywood.
Finding the Best Cosmetic
Dentist in Beverly Hills
Choosing the best cosmetic dentist for your needs in Beverly Hills can seem like a daunting task. This area is a hub for medical professionals catering to the needs of celebrity A-list clients, top-level media executives, and even Saudi royalty.
When seeking out the best cosmetic dentist in Beverly Hills, it's necessary to look past the beautiful decorative offices and the prestigious addresses. What is most important is the man or woman who will be working on your precious smile.